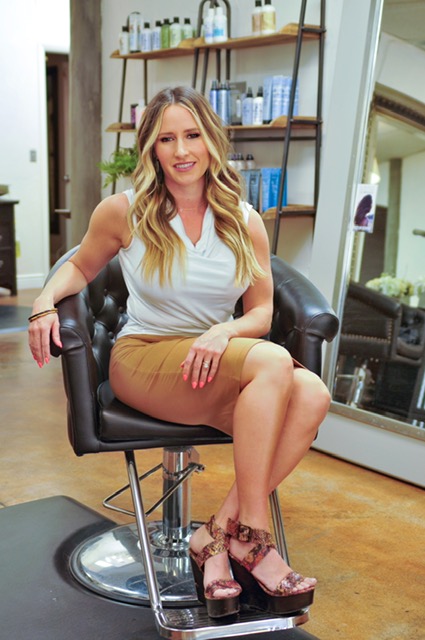 I am from a small town in south Texas. Born and raised there, I grew up in a very creative household, living on a ranch until I was 17. You never knew what DIY job was next!
Growing up my Mom would cut everyone's hair. Although she wasn't licensed in this field, they weren't the Pinterest fails you've seen – they were pretty good. So, you see, hairdressing has been in my blood since childhood. I did my first haircut was when I was about 9. Anyone who would give me the chance or sit still long enough was my muse! My professional career as a cosmetologist began when I was 19, gaining licensure at the age of 20. I have been an independent hairstylist since then.
During the early years, I rented a booth and built my clientele doing mostly corrective color. That helped me learn what not to do and diagnose what happened and why. It helped me be successful and has always driven me to be better, work smarter and not waste effort. I think that people saw my passion for what I do and that created a following. After that I opened my own salon, Cut Loose Hair Emporium, and built the business further for 10 years before my family was called to relocate to Colorado. I was fortunate enough to sell my salon, Cut Loose Hair Emporium, to an associate which continues to thrive today.
I am looking forward to creating new opportunities in my community of Parker, where I now live with my husband and three children. I enjoy family time, working out, black coffee and anything sweet. My family and our work ethic keeps me motivated – my life is full of supportive people and I am determined to make them proud! At my salon in Texas, I had started a give back program called Free Haircuts for Veterans. Once a month on Saturdays we would open the doors for free haircuts to our Veterans, to my knowledge this is still ongoing. I am proud to have started that and am hoping to be able to start some type of give back program here.
It brings me joy to see someone's face light up when they are happy with their appearance. I feel that is one of my purposes in life – to show on the outside the beauty people have on the inside. Let me help you take your hair to the next level! I am excited to continue my journey of discovery meeting new people in Parker, helping to ensure Colorado is kept beautiful!